Amidst chaos of your daily chores, just shut your eyes and contemplate. For sure, both your heart and mind will pronounce that "fashion is comfort". LIBERTY from decades has centralized the art of comfort to rehabilitate fashion for the audience at large. Being an Indian footwear brand, it states the certitude to bring forth reassurance and style together for a person's fashion and lifestyle dimensions.
With HEALERS down its array of sub-brands, the brand has jawed upon the virtues of comfort-friendly, lightweight and technology-rich footwear. So, if you're looking forward for pairs that meet functionality with fashion, you're at the sweet spot of all things congenial. This spot has a circumference full of colors, trends, fashion-friendly oomph, technology-based succor and precise fits, gamut of crafted pairs from classy formals to dressy casuals, which are rejuvenating strokes of serendipity.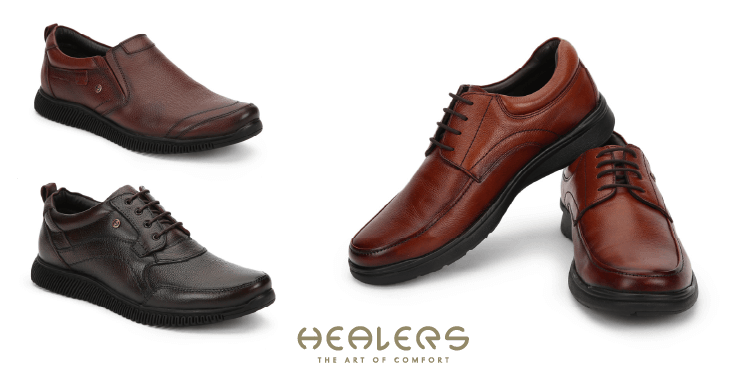 HEALERS – an innovative range of footwear is crafted out of the most comfortable yet sturdy materials to keep your feet relaxed and make your personal style statements buttressed by easement. By stimulating the pressure points of your feet, supporting and securing each of your steps, and making you feel refreshed on your energy quotient all day long, this brand sticks to the series of H-H8 technology like a powerhouse of distinctive style sets. Here we underscore the technological highlights that Healers feature in its premium marshalling. Have a mindful read!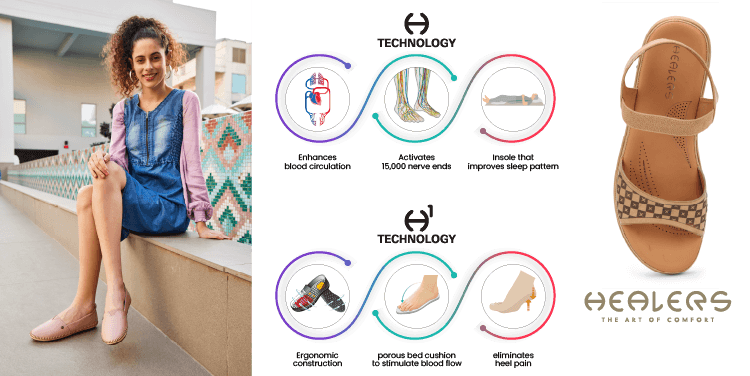 H technology – Getting the feet massaged at every step! The insole of the shoes improves your blood circulation and acts as a catalyst to make your sleep pattern better. The massage nodes work together to stimulate and relax your feet with every step by activating 15,000 nerve ends at the sole of your feet.
H1 technology – Enhanced feet comfort caught up in the moment! Exclusively designed with ergonomic construction, these pairs provide stirring support that helps in obliterating heel pain and enhances feet comfort to the fullest. Along with the porous bed cushion bestowed on the pairs, this range helps to stimulate blood flow for channeling the body vitality thoroughly.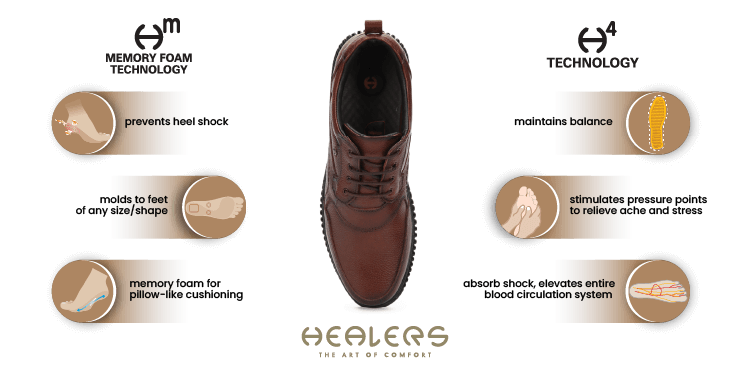 Hm technology – This array of footwear is even supported with the memory foam based insole, with high density polyurethane material, which provides excellent support and pressure relief. The chemical treatment determines the density of the insole, and the density further determines how much bounce and comfort it has. Interestingly, these insoles relieve arch pain, heel pain, and planter fasciitis pain. They also relieve pressure and pain caused by spurs, corns and benign tumor of a nerve. As the technological name suggests, they acquire the impression memory of your feet-shape and provides pillow-soft cushioning to each part of your feet. They help in the even distribution of balance. When you step on these insoles and lift them up, the memory foam comes back to its initial shape rapidly. So, the moment you wear these shoes, you will instantly feel the comfort. Such pairs even provide arch support; hence absorb heel shocks, which in turn improves stability.
H4 technology – Feels good four times over! The H4 technology is featured with ultra-comfortable insole, which helps in the entire blood circulation of your body. Four chief principles of this range are maintenance and control over the shock absorption, relieving aches and pain, relieving stress and tension, and majorly stimulation of pressure points covering your feet.
Have a look! Just to emphasize the feet reflexology in details, the pressure spots namely brain, sinuses, eyes, ears, trapezius, pituitary, lungs, heart, shoulders, cervical spine, thyroid, solar plexus, diaphragm, stomach, adrenals, pancreas, liver, gall bladder, appendix, spleen, kidneys, ureter, bladder, rectum, sacrum, hip joints, gluteal area, intestines, knees, and sciatic nerves are focused upon with health benefits from such technology-based footwear.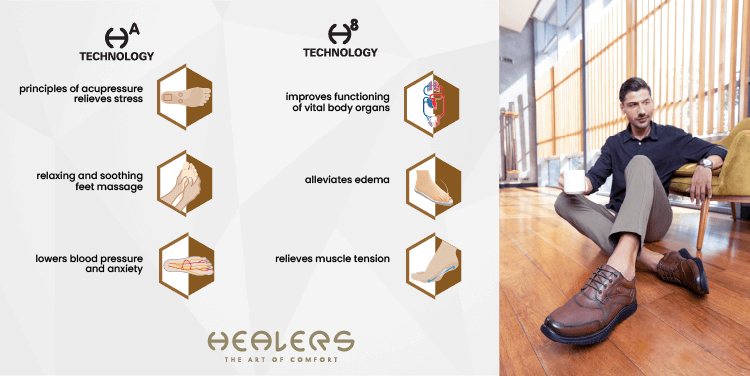 HA technology – Accoutered with acupressure-technology for ultimate relaxation! These pairs are supported with fine acupressure-technology that can address symptoms of fatigue in persons diagnosed with multiple sclerosis. These pairs have been intentionally designed to provide you a relaxing and soothing feet massage, especially if you encounter swelling on your legs. Wearing these pairs also help you lower your blood pressure and anxiety, resulting in improved mood. Wearers can even ascertain if an endocrine reflex is under-active or over-active and then with acupressure tech-based insoles, they can balance the reflexes accordingly. These pairs are also beneficial in combating indigestion, heartburn and irritable bowel syndromes such as constipation, diarrhea, gas and bloating. They can also reduce the symptoms of menopause such as depression, backache and foot ache.
H8 technology – Get ready for 8 good reasons to smile! These pairs are armed with self-healing mechanisms, which specifically work upon the eight vital organs of your body namely, brain, eyes, neck, heart, stomach, kidneys, intestines and heel. The range caters to the particular need of the effective functioning of these organs for absolute flow of energy throughout your body, for alleviating edema, for assuaging muscle tension, for mitigating body and feet pain, and for improving your sleep pattern. These pairs are well-built to eradicate foot infections such as tinea pedis (athlete's foot), and a bacterial infection known as pitted keratolysis. They even take the edge off skin diseases that affect the feet, such as dyshidrotic eczema, which is related to tiny itchy blisters of the palms, fingers, instep of the feet, or the toes. Gout – a type of arthritis, affects the big toe joint with inflammation. These pairs even help to prevent the ill effects of 'gout', which typically commences as an acute attack with severe pain and swelling in the joint.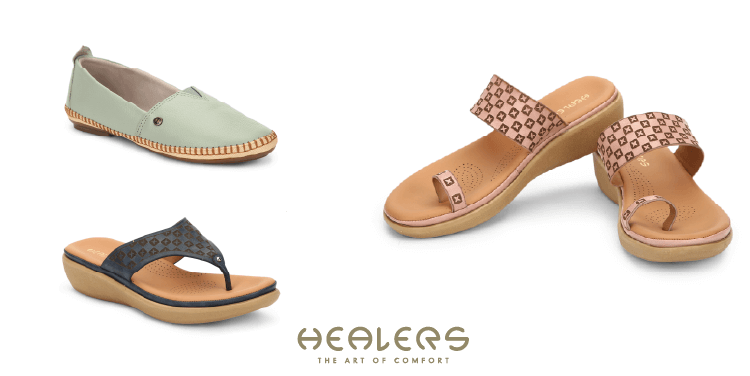 Now when you know how vital footwear can be in improving your health both physically and mentally, then do not delay to check out our outstanding collection of HEALERS footwear soused with mind-boggling comfort and style.