Fashion for both men and women is a vast parasol of unlimited ways to style up, dress up and get ready for any occasion. The potential to influence others with your appearances makes the shaft, brightly clear, that you're friendly with the up-gradation of your closet essentials every season. Nevertheless, whenever you give it a thought, the utter need of amazing pairs of footwear seems clearer. Your wardrobe is lifeless; if it doesn't has the perfectly comfortable pairs of shoes, sandals, slippers, etc, even in its last shelves. In order to ameliorate your old stuff, and refurbish your personal style statements; LIBERTY has come up with an innovative range of footwear – HEALERS to celebrate the magnificence of fashion-oriented lifestyle.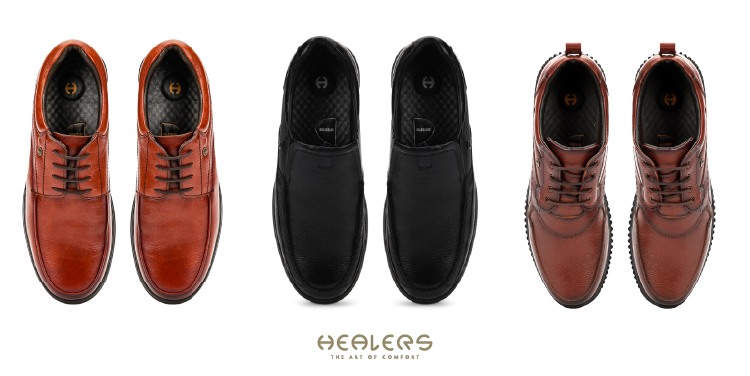 Here, we have the most classy style updates for men and women, through which they can rejoice different finesses of flaunting comfort-friendly pairs from HEALERS.  Men's fashion index – Few ways in which, men can glam up the dress shoes in their collection checklist are as follows –
Men can wear clean pairs of loafers with suits for formal settings. They can even go for casual styles with rolled jeans and printed socks.
Adding certain panache to any attire needs the monk straps for the chic quotient. Monk strap is regarded as a very versatile shoe that can be worn with cuffed jeans or the most dapper of suits. With decorative broguing, crafted out of leather or suede, they become the focal point of a man's ensemble.
Men can wear and style pair of Derby shoes for casual business statements down the voguish pipeline. Chinos, tapered-fit jeans or skinny-fit jeans, narrow-fit jeans or mid-rise jeans with some derby inspired socks will wrap up this cool and collected countenance!
Oxfords are prominently popular because of their minimalism and ability to pair with any outfit. For everyday wear, there is a wide range of colors from brown to blue to black. Pair them with a bright, colorful sock for bonus style points. For business attire, dark brown, English tan, and black leather are the safest choices. Keep this look ultra-classic with buttoned-down shirts and darker pair of socks! If a man wishes to pair them with tuxedos or other formal wear, go ahead with black patent leather as the best companion.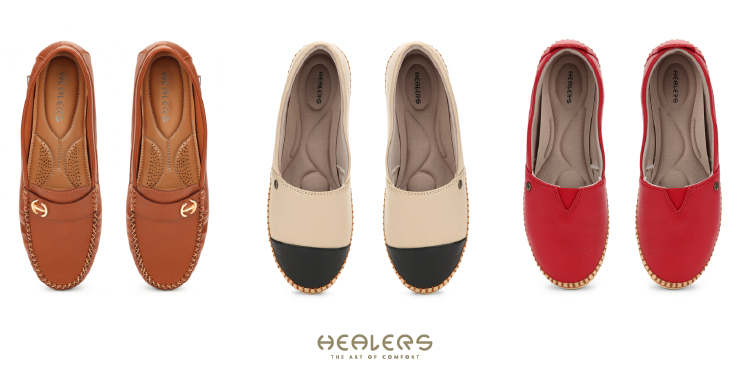 Women's fashion index – When men in style can raise the bar spiritedly, then why should women under the fashionable auspice must not flaunt their best with comfortable footwear? Few ways women can amp up their looks exclusively with HEALERS latest range of grace-filled pairs –
Want a relaxed look? Women can go for platform sandals to make the real style statement anywhere. If they want to keep things earthy, they can choose neutral shades of pairs. If they want to add some shine and glamour, they can go for minute embellishments.
Jeans go absolutely right with every confident move! They can be paired with wedge sandals or flat sandals with maxi-long line, peplum, tulip, cold-shoulder, high-low, choker, cape, styled back or any other kind of women's top. The fashion list is incredible with the lowers too, where skinny jeans, ripped jeans, leggings, palazzos, skirts, tapered jeans, trousers and flared pants do the wonder.
Even with traditional outfits such as suit sets and saris, the platform sandals look wonderful underscoring the essence of Indian ethnic wear.
The range of ballerina shoes or bellies, are beautiful to carry along with maxi dresses, A-line pieces, draped or asymmetrical tops, long cardigans, jackets and ponchos. Printed or solid dresses can both be styled with appropriate color coordination with the footwear! Go an extra mile in both summer and winter with coordinating elements such as socks, belts and scarves.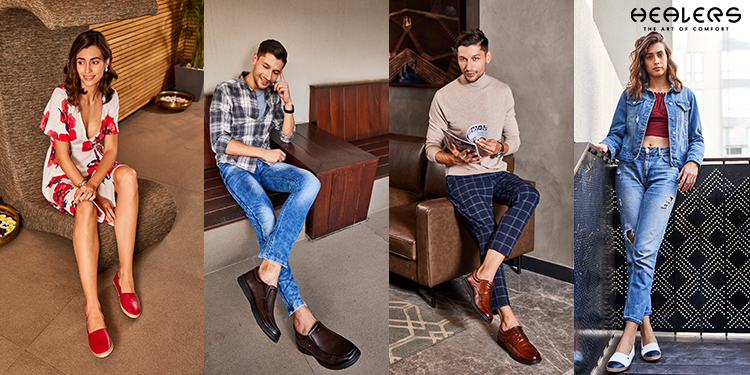 It's time to reflect the magic in your classy formals and dressy casuals, to up heave your fashion requisites. It has been rightly quoted by Roger Vivier, "To wear dreams on one's feet is to begin to give a reality to one's dreams." Henceforth, we at LIBERTY with our every latest collection make sure that we serve you the platter of your dreams, where you can take the first step with thorough-going comfort, relaxation and unmatchable confidence.