Men's footwear fashion encompassing health-benefits is no more a big deal! With lifestyle concerns dwindled to acute health issues, footwear fashion brands have now tightly held the aeon of technological advancements. The advanced range of products even in the footwear category has become a matter of importance in day-to-day customs. Within a lengthy list of styles in the footwear industry, therapeutic and restorative fashion has taken the shape of incredible, beneficiary deeds. Pairs of shoes are now designed with acupressure-therapy based insoles to massage the feet and act as a pain reliever. Nowadays, footwear fashion without comfort is like life without air. So, the satisfactory quotient relies on a lot of additional features along with the range of hues and styles.
Healers – an innovative range of footwear by LIBERTY has come up with exclusive pairs for men, manufactured with acupressure-based technology for healthy enrichments. As the Indian footwear brand, LIBERTY totally understands the need of comfort-wear and serves the same for the mass; here are the reasons why one should go for acupressure footwear without a streak of doubt.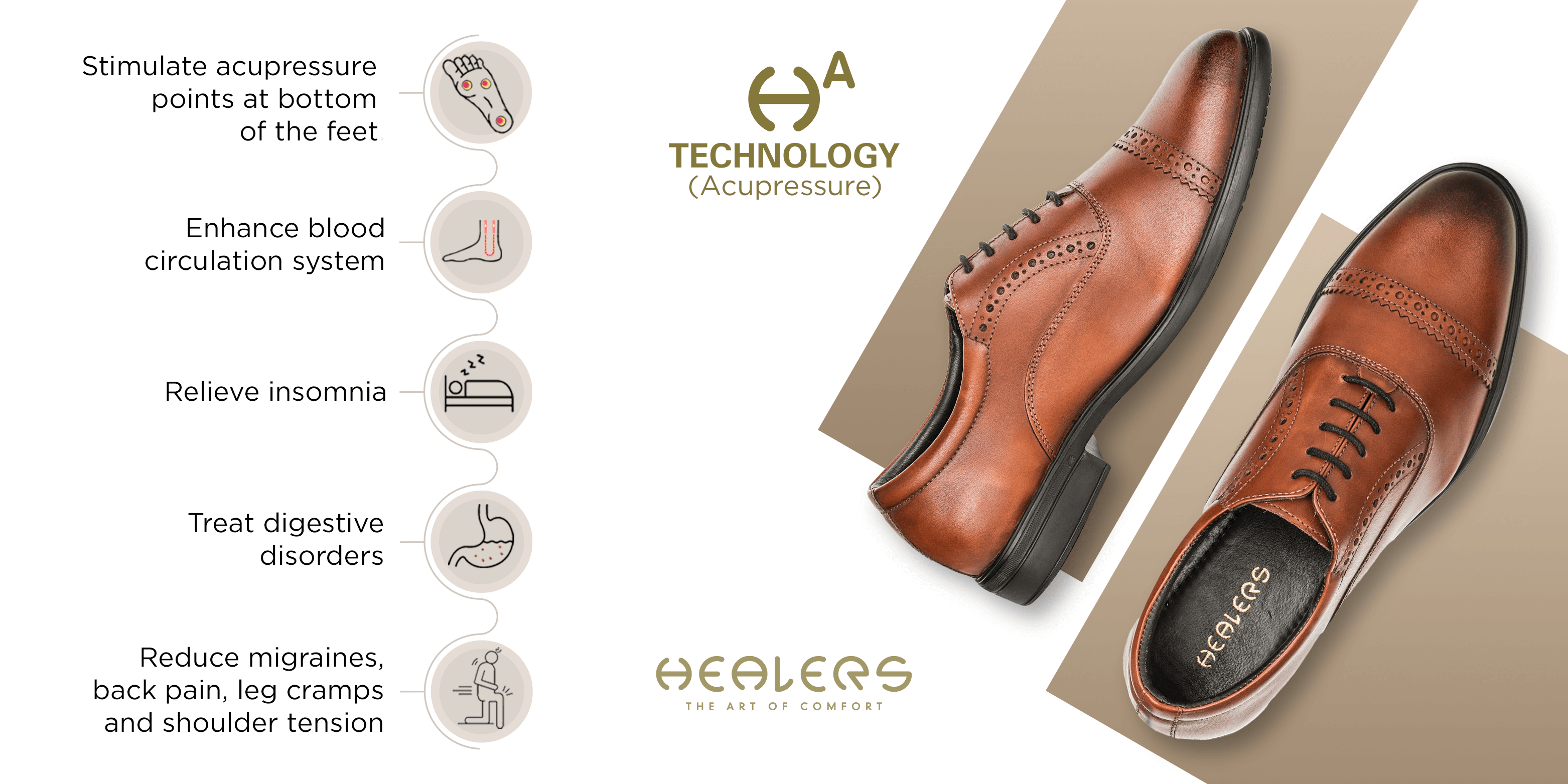 The area around the center of the toe and the ball of the feet are linked to mental and emotional health. Targeting these areas by wearing such footwear can benefit the wearer by relieving the symptoms of depression.
The wearer can stimulate dozens of different acupressure points present at the bottom of both the feet instantly.
Pairs designed with gentle projections, balanced uniformly across the foot bed helps in restoring gentle stimulation.
These pairs even speed up the healing of wounds, eliminates toxins, braces the blood circulation system, reduces migraines, headaches and back pain, prevents leg cramps, reduces neck and shoulder tension, and relieves anxiety, stress and insomnia. Stress causes shallow breathing, which can lead to irritability, frustration and eventually chronic fatigue. So, these pairs even make your breathing healthier.
Acupuncture based pairs provide pressurizing therapy to thousands of nerves ending on your feet. This in turn helps you to feel rejuvenated all day long.
Acupressure technology inbuilt with ergonomic construction of footwear also relaxes muscles, helps in proper blood flow throughout the body to provide nutrients to each and every body part, and de-tenses the whole body. Such pairs feel great for sore and tired feet.
Other health-related profits include the effective treatment of a hernia, digestive disorders, fatigue, irregular menstruation and male impotence. With this range of footwear, ST-36 (stomach 36, or three mile point), an effective acupressure point in your body, also gets significantly massaged for constipation relief. ST-36 promotes assimilation of food, mitigates multiple intestinal disorders, and strengthens the whole body.
Such footwear also soothes tension due to plantar fasciitis, arthritis and neuropathy. These pairs are embedded with thermally managed plates that maintain the feet temperature, relieves the stressed muscles and pain in the base.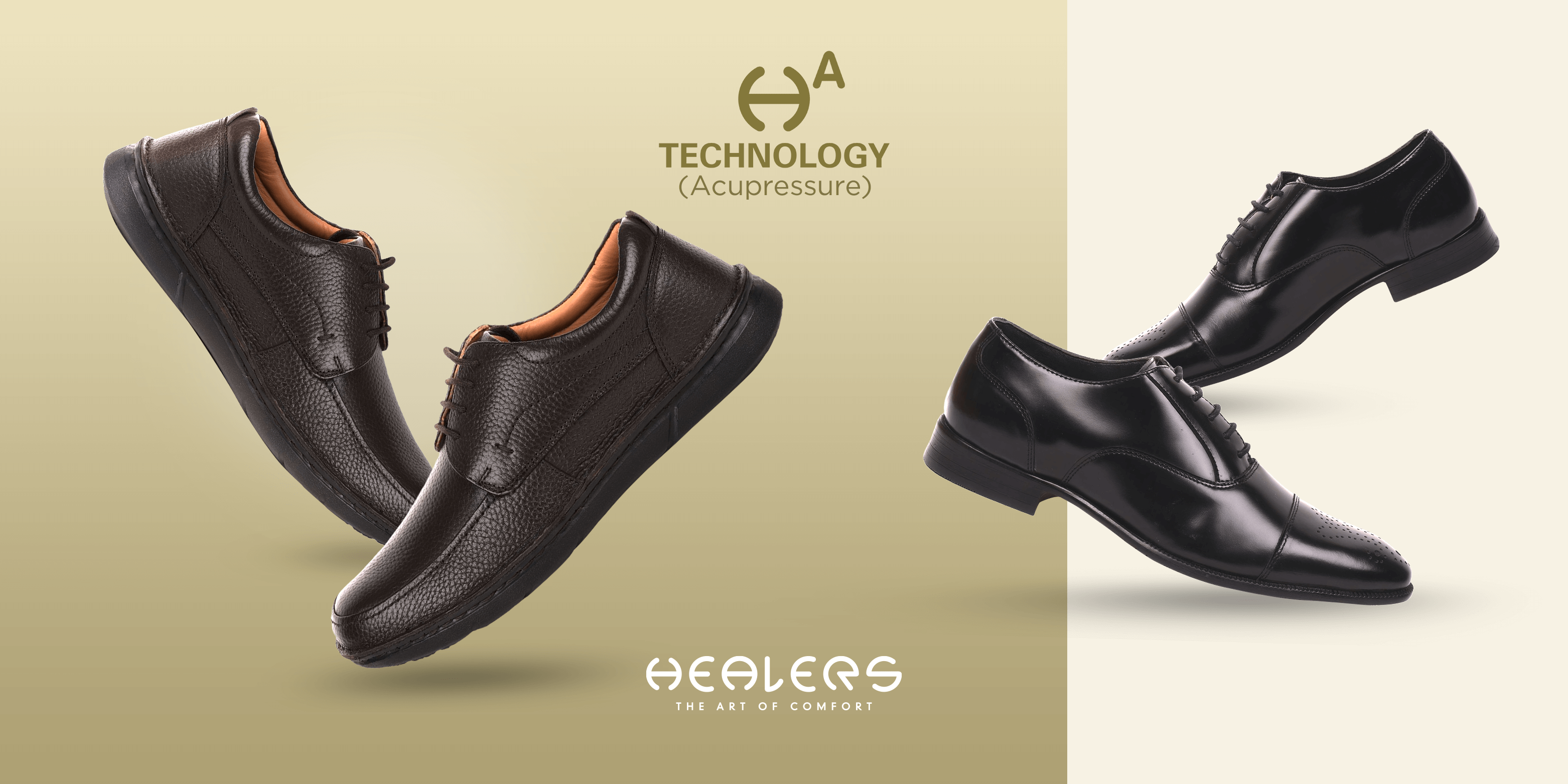 Now, if you express your desire in acupuncture therapy; then instead of coming to several choices of acupressure bands and mats, go ahead with HEALERS range of therapeutic, acupressure-technology based footwear collection for men. These lightweight, flexible, breathable and fashionable pairs aptly apply pressure to acu-points on the body's meridians (the energy network of the body) incorporating automatic and specific massage techniques. Body's natural self-curative abilities can now be made better with LIBERTY's premium range, triggering the feet reflexology.