Every monsoon awaits a fresh pair of sandals in your footwear collection. Blame it to the sogginess of the shoes after getting wet or the stink that comes out from them, wet shoes are always a complete turn off this monsoon season. Don't worry, Liberty has got your back. Introducing a cozy range of airy and comfy pair of slippers to make sure you don't deviate from keeping up with the freshness of your feet. 'COOLERS' as the name suggests, boasts an exciting collection of sandals that you shouldn't overlook. It's time to buy shoes online!!!
Coolers Men's Black Formal Thong
A perfect grip to your walking and strolling activities, this formal thong is made to provide a gratifying experience to your feet. The straps are immaculately designed to cover your feet and leave the forefeet open to make sure your toes remain dry and wrinkle-free. Express your love for the audacity with poise.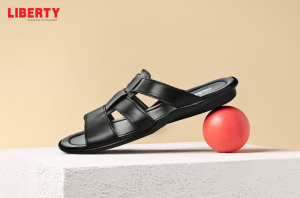 Coolers Men's Camel Formal Slippers
Simple yet classic, this pair of sandals is an example of exquisite craftsmanship. The symmetric and flawless straps on this sandal can be considered as a foremost design in this category of sandals. This pattern segments the big toe than the rest so that you can lift your feet easily without feeling any weight on it. Made to woo all, you can never go wrong with these.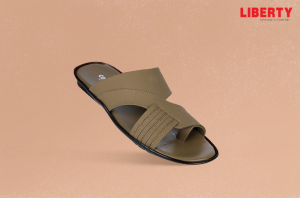 Coolers Men's Black Formal Sandal
Introducing a new chapter in the trends of the footwear industry, this pair of sandals will surely stun the onlookers at first glance. The braided straps add an apt charm to cover your feet methodically. There is also a buckled strap attached to the side heel for you to adjust it according to your walking steps. Explore your inner artistic desires with these.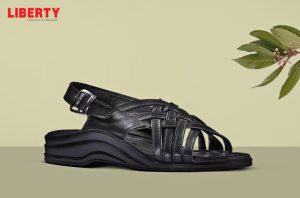 Coolers Men's Tan Formal Slippers
Define your lifestyle with the utmost urbanity. This tan-colored slipper has a dual strap to support your forefeet and fix it well. Also, the texture applied is unique and uplifts the look of the whole piece of footwear. Walk on the plumpy cushions and 'heal your heels' without struggling. Revel the impressions of leathery feet.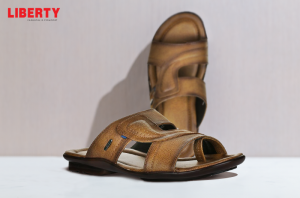 Coolers Men's Brown Formal Slippers
Manifest the aura of Brown with utter sophistication. This formal slipper has an overlapping layer of textures ingrained on it. There is also a high padded sole incorporated in this design which contributes to the comfort of your feet and keeps it fresh throughout your stroll. Go beyond your imagination and fulfill your unknown desires with these.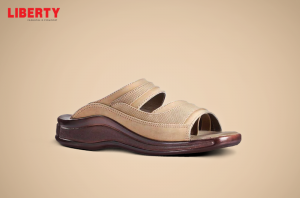 With uncertain rains around the corner, these are few of the best trending footwear options you can have this monsoon. Keep your feet fresh and complete your look with a touch of peculiar audacity with COOLERS, from the house of Liberty. Leap over the puddles and muddy streets with an exceptional range of sandals!