Dress shoes, or more commonly known as men's formal footwear complete men's formal attire. Whether you have to wear it for holidays, or whether you decide to carry yourself that way, there is a truckload of formal shoes to pick from. Unique regard is given to formal shoes by men who do online shoes shopping. With numerous options to pick from online shopping, you end up looking more elegant and classy. If you thought that shoe addiction was just restricted to women, then you are wrong. Men have been similarly obsessed with fashionable and unique formal shoes since time immemorial. It adds a special aspect to their fashion statement and strengthens their character.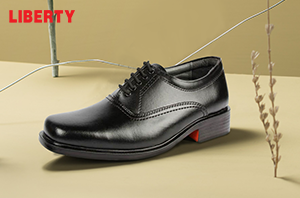 At Liberty, we understand men's desire to stock many men's formal shoes in their wardrobe, thus we've come up with a detailed guide for men who like to do online shoes shopping.
Formal men's shoes are a special kind, and before you purchase a pair, you certainly need a guide on what to wear
1. You need to consider the components used to make formal shoes to understand a certain type of formal shoe. Follow the toe, vamp, face and quarter positioning (four elements of the shoe) and you can learn how they are made.
2. Oxford, Monkstrap, Loafer, Derby, Chelsea Caps, and several more are the different types of formal shoes. Among these, the most popular ones are Oxford.
3. The type of style, cloth and colour, express the true formal flavours of a formal shoe. All blends to form the ultimate formal footwear for men.
4. You've got to wear shoes that make you more relaxed. Choose the pair of shoes that fit your personality and your outfit. Be sure that the design of the shoes is the best that can be found and that they suit your feet properly.
5. Always look after the formal shoes you're wearing. The better you do so, the more it will remain intact.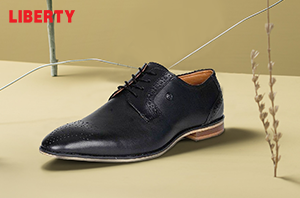 All this might seem a little overwhelming right now. But picking the right pair of formal footwear is equally important to add that special element to your overall attire. At Liberty, you can shop from our wide range of formal footwear collection for men and we assure you that you will never be disappointed in online shoes shopping.
For your formal footwear style, we at Liberty had the most spectacular time curating a detailed guide to men's formal footwear. We hope while donning any formal footwear, you have a wonderful time following these tips and look nothing. But, classy at all your social and formal events.