Be it freezing, snowing or a sunny day outdoors, our quarantine life has ended and thus, life is active again! Even in the worst winter season, whether you are going out, running some errands or walking to work, you would want shoes that can handle the difficulties the cold weather brings with it. You would want stylish-looking shoes while keeping your feet snug and dry. You want to shop for shoes that will handle the hardships of cold weather, and keep your feet safe. This season while you're shopping for shoes, your first pick should be Liberty's wide range of casual shoes for women which can easily take you through the winter months.
While winter brings with its own set of weather-related obstacles, these challenges would not be an issue for your feet with the right pair of shoes offered at Liberty. Here are some top examples for you to pick from:
Who said that ballerinas are only restricted to summer fashion? Well, whoever did say it haven't shopped from Liberty! These casual black ballerinas are the must-have casual shoes for women to don this winter season. Affordable, fashionable and chic, this glider shoe is your wardrobe essential. To complete your look, pair them up with smart casuals. They are lightweight and deliver a walking experience that is carefree.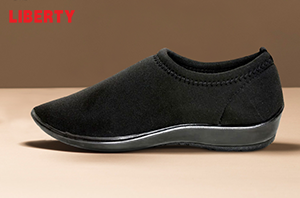 Shoes are no longer restricted to the gym. Fashion shoes bring to every ensemble of yours a playful, casual edge. Plus, when the weather is dry, they're super cosy, making them a good choice for winter. You can also these shoes with a skirt or dress. Add a pair of fleece-lined tights to your look when the temperatures are extra cold to keep your legs comfortable and warm.
Whether you are rushing towards your office or going out on a date, this winter don this amazing pair of sandals to complete your everyday look. If the temperature gets colder, you can style them with a cool and stylish pair of socks and you are good to go! Ladies, it is time you immediately add this sandal in your wardrobe.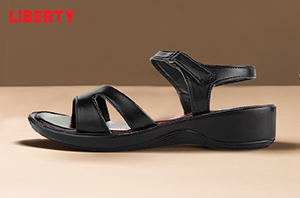 Liberty is the place to find desirable casual shoes for women when you're looking for the most trendy flats to style with your work outfits or casual dates. We help you put your best foot forward everywhere you go with a large range of trendy footwear in so many styles, labels and colors. So, wait no more and shop now!
Relevant Read: 
Must-have Shoes For Women This Autumn
New Arrivals – The Monsoon Edit At Liberty
Checkout new women shoes collection: casual shoes, formal shoes, sports shoes, ballerina, running shoes, slippers, sandals online