The millennial Indian, unlike his forefather, won't delegate the task of shopping for his wedding to his family or in some cases, to his would-be wife. Sartorially aware, today's man would take responsibility on his shoulders because now they know the importance of dressing up impeccably and wearing the right shoes for all kinds of outfits. Shoes can make a man stand-out and look & feel confident. A well-dressed man is a myth if the shoes aren't appropriate.
To make your shoe shopping easier and comfortable, we have got a list of shoes and points that need to be considered and followed while you're hunting for the right pair of wedding shoes. Although grooms don't get as many options as brides easily do, it is still very important to wear the right pair considering the venue, theme, attire, and time. Let's read further about it.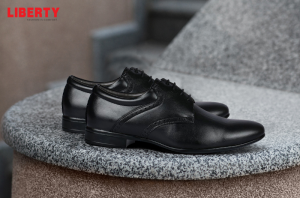 Black tie Wedding Shoes!
For a formal event like a black-tie wedding, a man can't go wrong with the outfit and shoes, unless if he hasn't received the memo of his own wedding. The event calls for the highest quality of black dress shoes that will go with your tuxedo. Wear the classic black shoes for a lightweight, comfortable and stylish experience. Make sure to break in them before your D-day and get the formal shoes all tidy & shiny for your big night!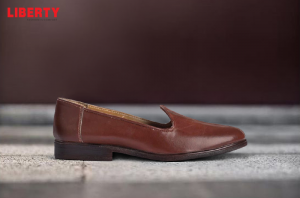 For the Traditional man!
We know how rare it is for some men to step out of their comfort zone and not wear sneakers, loafers or sandals but on your wedding day, you must make a little bit of an effort and wear the right pair of shoes with your Indian traditional outfit. If you are someone who is planning to match with their desi-girl and planning for a sherwani or jodhpuri, then we have got the perfect pair just for you. Wear the Nagra shoes in brown or black color to keep up with your traditional outfit and look impeccably stylish on the happiest day of your life.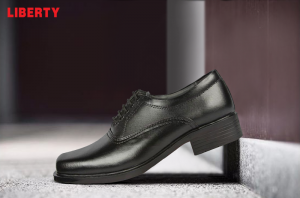 A Little Bit of Height Never Hurt Anybody!
While we are all for women looking taller and embracing their height, a man should also be comfortable enough to embrace his height. In any case, if you want to look a tad taller because your bride will be wearing a 6-inch heel, then don't be afraid to add an inch or two to your shoes. These black laced formal shoes from Liberty will solve that problem easily, all you need to do is – fix your outfit for the day and match it with the classy pair of shoes from Fortune collection.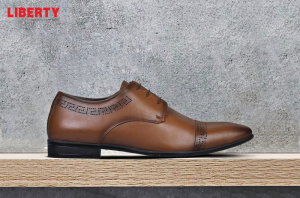 Keep in Mind the Venue!
As much as your clothing, food, and people are important, you cannot miss out on the simplest detail, i.e., the venue of your own wedding. If you are not hiring a stylist for your wedding day, it's alright, no need to worry because Liberty is here to make your life easier for you. For a formal decked up location, opt. for patent or glossier pair of formal shoes, but if you are getting hitched at a beautiful serene location, such as a beach or desert-area, then opt for these tan formal lacing shoes and pair it up with muted tone or fresh vibrant tone suit to match with the lovely pair of shoes. Don't forget – venue, weather & time are as important as any other detail.
We have got the basics covered; now all you need to do is, make an effort and tap on the link to shop from Fortune collection and get your hands on the perfect pair of formal shoes. Let Liberty make shoes online shopping experience comfortable and exciting for you. http://bit.ly/2IF4qJR