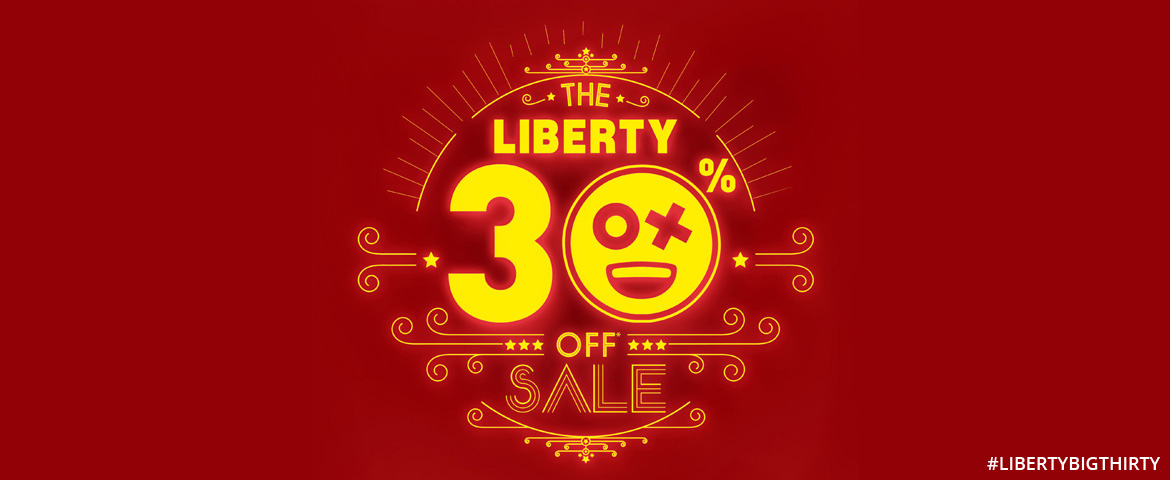 Sale is the best time when you can get your hands upon your favourite pair of footwear at the best discounted price. "Liberty Big Thirty" offers you best deals on the stylish and comfortable footwear for women, men and kids. So, what are you waiting for, rush to your nearby stores or shop online for men's shoes to bag your style and that too at flat 30% OFF. When you treat yourself to footwear online shopping, you make sure to get your hands upon the best deals available on the best footwear.
With the new year and end of the season, you all must have geared up for some awesome shopping to add some classic to cool styles to your wardrobe with the seasonal and off-seasonal footwear styles. This "Liberty Big Thirty" offers you great discount on a wide range of comfortable and classic footwear. So, if you are looking forward to buying footwear online or offline, then this article would definitely going to guide you about the best deals on the best footwear styles. Here are some deals that will attract you to this LibertyBigThirty sale:
Lucrative Deals on Ladies Footwear
From comfort-lover to fashion-forward women, this sale has everything for everyone. All you need to visit #LIBERTYBIGTHIRTY online or visit your nearby liberty showroom to explore the huge range at less price. Under this sale, you can get a whopping discount offer on stylish range of women's footwear such as sandals and thongs.
Magnificent Offer on Men's Shoes
This is the best time when you can fill your shopping cart with magnificent men's shoes at best discounted price. You can avail flat 30% OFF on lacing shoes, non-lacing shoes, sports shoes and slippers etc. to upgrade your wardrobe with some classic collection at best discounted price. If you are a big fan of formal shoes for men or fond of casual shoes for men, grab them all as it will last till 15th Feb'17.
Fun Offer for Kids
Why shouldn't your kids have all the fun of the best deals running under Liberty Big Thirty sale. Bring the colorful and funky kid's sandals to your kid's wardrobe in order to add some new styles at the best sale offer.
So what are you waiting for?
As the season ends right here, it's high time to grab the seasonal fashion at the best offer, so what are you waiting for, simply grab now all your styles that wanted to buy but waiting for them to come on sale. The styles are now here and so is the big sale of thirty percent of discount!
Grab The formal to casual styles before the sale gets over!
The last day of the sale is 15th Feb'17, so rush as there is less time left and more styles are yet to be added to your wardrobe to flaunt away your fashion.