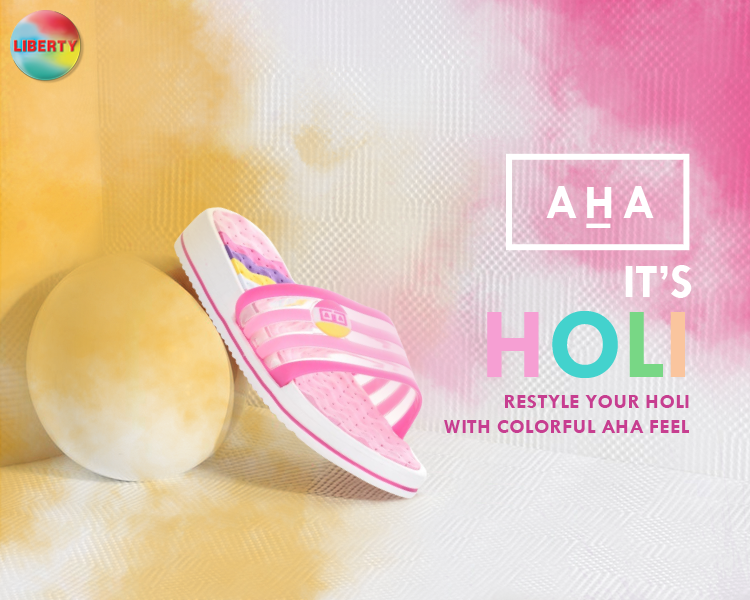 Vivid hues just taint the sky as the season of Spring approaches with the festive vibes of vibrant colors. As we all know that, Holi is known for vibrant colors, sweets and fun and this is the best time when foes become friends by splattering colors and splashing water on each other. Let's add a flavor of fun, comfort and style to this fun-filled festival with something that will make you feel good all day long. Wondering, what it would be? On this special occasion of colors and fun, Liberty Shoes has introduced a cool, vibrant and comfortable range of slippers for men and women who don't want to compromise on comfort and style.
Colors of Joy and Comfort
One of the best ways to say "No" to slip while splattering colored water on your pals is to wear a safety guard in terms of good footwear. What else could be the best choice than Aha? Aha is certainly dedicated to make you feel good and look smart. The brand is a key to style and comfort with a rainbow of colors, so pamper your feet with the colorful range that is comfortable, anti-skid, and durable.
With the commitment towards comfort and style, the brand has come up with a vibrant range that can add an extra element to your overall look. Featuring the PU sole, this colorful collection provide support and comfort to the wearer and looks completely cool when adorned with casual clothes.
Aha..So that's your plan for this Holi!
Bend it, move it, make your slippers follow your feet wherever you go. Surprise your friends with these men's slippers that allows your feet to have some fun splash in Summer. Holi is a beginning of spring/Summer Season, and this cool casual collection is a complete package of comfort and style. Therefore, simply grab your style to have fun with all comfort while playing this festival of colors.
Food for thought
Ths Holi, make sure you take good care of your comfort since most of you don't pay much attention to the safety tips. However, the brand has kept three facts inact to make the footwear good enough to carry out in water. These cool slippers are waterproof, comfortable, durable, flexible, and above all, quite affordable that everyone can have a pair of slippers. You can explore and buy men's footwear online at the best price.
Have Fun, and Enjoy your Holi with Liberty Shoes!