With monsoon being right around the corner, getting drenched in the rains and splashing in water puddles might take us back to our childhood memories but it's no fun when we have places to be. So, what you can do is get waterproof footwear online to keep your feet dry and look stylish on the rainiest days. Be ready to say goodbye to the summer heat and welcome the monsoon as the rains are right around the corner. The air will soon linger with the smell of wet mud as the showers provide much-needed ease. But, all's not rhapsodic as the onset of rains can also bring along dingy weather and melancholy moods. Don't stew as your wardrobe need not reflect the dull days. Don't worry because Liberty has the perfect fashionable, and rain-friendly options that will add spunk to your monsoon outfits. The colour palette ranging from neons, pinks, blues and neutrals can up your monsoon fashion game instantly.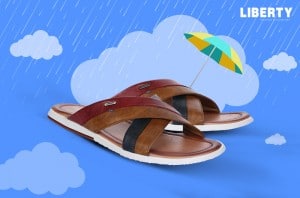 Get monsoon ready with these dashing slippers, perfect for a day out with friends or family. The best thing is not only does these take your outfit to a whole another level but also are waterproof, which is ideal for monsoon.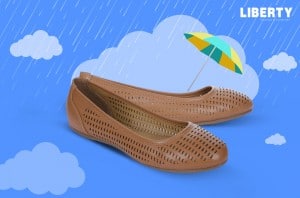 These Tan ballerinas are perfect for a formal day out with your colleagues on a rainy day, when you want to look cute but also don't want to mess up your heels.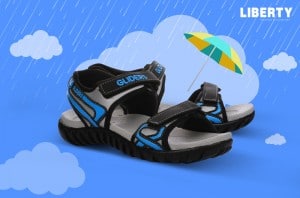 Want to go for a run but can't because it's raining and you don't want to ruin your running shoes. Well, in that case these sandals are the best alternative and amazing for running. Also, it'll give your athleisure a new younger look.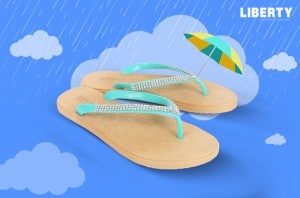 These blinged up flip-flops are an ideal choice when you want to look cute and enjoy monsoon at the same time. The best part, you can pair these with any kind of clothing and it'll look good and since they are waterproof, that's cherry on top.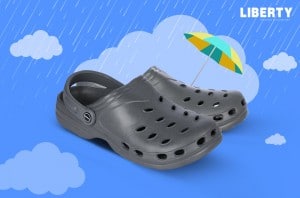 Clogs are particularly perfect for monsoon as they are made with this rubber material that doesn't get wet. Also, since these can be rocked by both men and women, you can pair it up with more of a casual outfit and enjoy the gloomy weather without worrying about your footwear getting ruined.
Get your hands on it:
Experience stylish footwear that'll elevate your outfit and leave you worry-free, this monsoon with Liberty Shoes!